Work Package 1: Ethics requirements
This work package sets out the 'ethics requirements' that the project must comply with. Including consent procedures, identifying research participants, data protection, and gender requirements.
Work Package 2: Integration and sharing of data, models and tools
This WP will facilitate access to data needed as input to a wide range of models used in DSS. This includes weather data, physical data (e.g. soil type), cultivar, resistance levels and farm management data (sowing date, previous crop, tillage, etc). Available datasets will meet the input requirements of a wide range of models, be locally relevant, quality controlled, and easily accessible for the user.
Work Package 3: Development of Dashboards and platform
This work package will develop four Dashboards, targeted at different user groups. There will be three farmer/advisor Dashboards, and a fourth Dashboard for DSS providers/researchers:
DSS Use Dashboard which will enable selection and running of the DSS tools by users (Primary users: farmers and advisors)
DSS Comparison Dashboard that will allow users to compare different DSS tools and their outputs (Primary users: advisors and interest Groups)
DSS Adaptation Dashboard that will enable modification of the parameters within a DSS to facilitate adaptation of the DSS to specific countries (Primary users: advisor interest groups and researchers)
DSS Integration Dashboard which will provide a web-based scientific workflows framework to facilitate the development of novel DSS tools through linking of existing DSSs, models, data sources and data manipulation algorithms. (Primary users: researchers and DSS providers)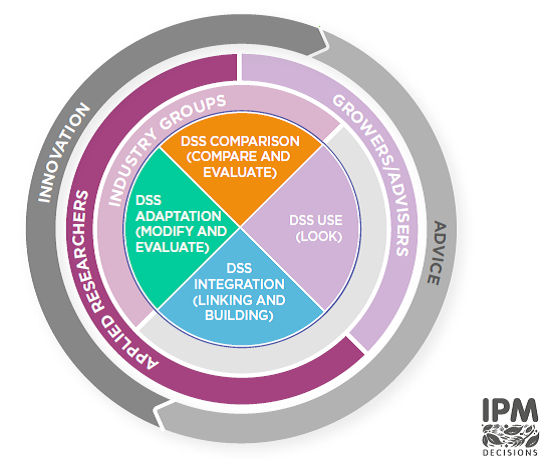 Work Package 4: DSS validation and evaluation
This WP will verify the extent to which decision tools give accurate predictions and quantify the value of these predictions in terms of economic return and reduction in pesticide use. This work package will also scale up to an assessment of the potential impact of DSS tools at a European scale in terms of economic return and environmental impact.
The work package tasks will answer the following questions.
Do the models and DSS correctly predict: (i) a pest or disease outbreak, (ii) the response of a pest, disease and/or weed population to management?
Is there a sound logic behind models and the DSS?
Do the DSS lead to better yields/better economic returns/less use of pesticides?
What is the potential impact of using DSS at the European scale?
Work Package 5: Incentives and barriers to DSS uptake
Current and potential users of DSS will be interviewed and surveyed to evaluate the overall performance of each DSS. Additionally, the study of users' profiles will identify possible linkages between user characteristics and reasons for their acceptance/no acceptance of various types of DSS. This will enable us to study different behavioural and technical aspects which influence the user's selection of a specific DSS.
Work Package 6: Multi actor activities, networking and dissemination workshops
The work package will use a multi-actor approach for interactions with users and stakeholders. Interactions will be coordinated in three bio-geographical zones, with each zone coordinated by a 'Zone leader'.
The first phase of work will focus on gathering information into the project from representative groups of users and stakeholders from contrasting sectors of agriculture and geographic zones. This phase will (i) promote benefits of the Platform and identify DSS developers with an interest to cooperate with the project, and (ii) ensure that WP 2-5 get the key inputs they need to understand the constraints with current routes of access to DSS, and user input to the design and content of the Platform and Dashboards.
In the second phase, the IPM Decisions Network will be expanded to full scale for dissemination to wide user and stakeholder communities, to foster uptake of the Platform and IPM DSS.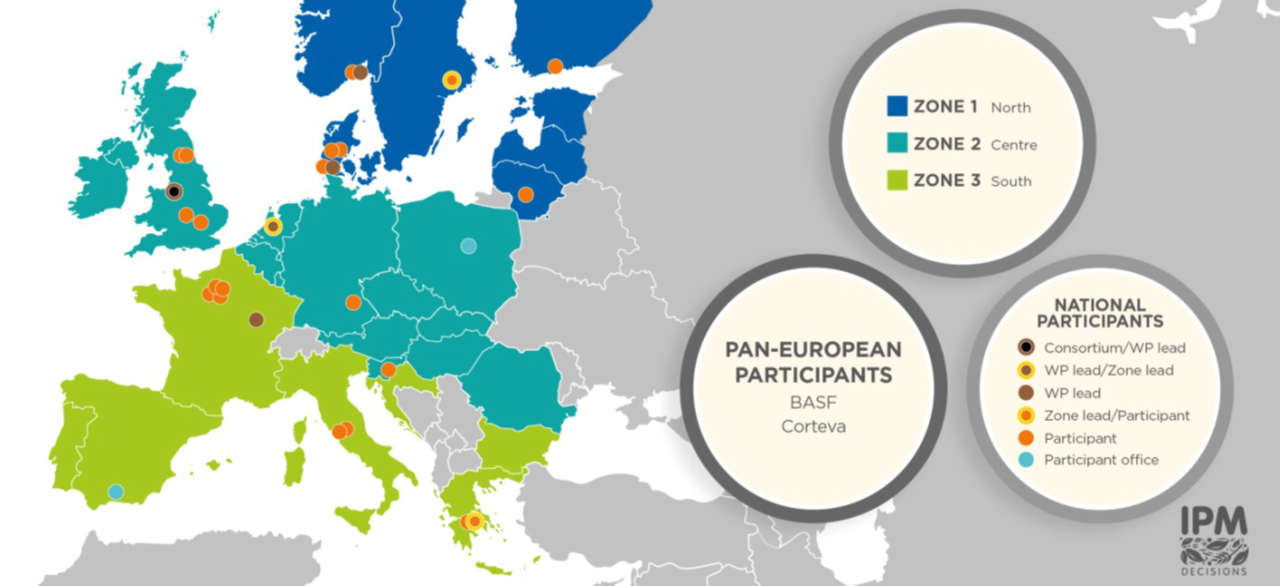 WP7 Project management
This WP will ensure quality of delivery and scale of impact within the project timeframe and budget.
Work Package leaders, and Zone Leaders in the IPM Decisions consortium, will form a Project Management Executive (PME). For project oversight, a Project Steering Group (PSG) will comprise all participants, except those represented on the PME.  The PSG will provide strategic direction to ensure the project fulfils user requirements.